Welcome to our website!
The Arc of Lincoln is a non-profit advocacy organization that serves people of all ages with intellectual and developmental disabilities and their families. Thank you for coming to our website. If there is anything we can help you with please do not hesitate to let us know.
Phone: (402) 421-8866
Thank you to our sponsors: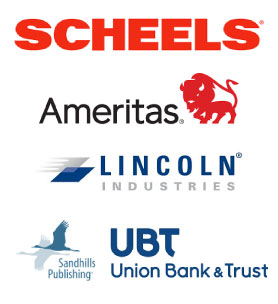 News & Announcements
Arc of Lincoln Membership Picnic
Please join us for our 2017 membership picnic. 
When: Sunday, September 17th, 12 pm - 3 pm
Where: Advocacy Partnership Thrift Store - 101 SW 14th Place (by Phat Jack's on West O Street)
Who: Everyone is welcome!
What: Food from Phat Jack's, games, prizes, a bounce house, face painting, balloon animals, Koni Ice, and more!
Arc members eat for free! Click here to become a member for just $5.
We will also have a membership booth at the event for anyone that wants to register there.
Arc Expeditions Registration Deadlines
We have a few Arc Expeditions registration deadlines approaching! Have you signed up for a trip yet?
Branson: September 15
Barn Dance
Join us at Deer Springs Winery on October 14, 2017 from 6pm - 9pm.  Tickets are $25 per person and you will receive either a glass of Deer Springs wine or Blue Blood Brewery beer, pulled pork dinner from Bailey's Local and live music from Hardknox.  Register for tickets here https://arclincolnorg.presencehost.net/get-involved/event_calendar.html/event/2017/10/14/barn-dance-for-afn/172526