People First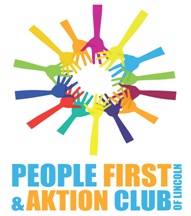 "They help me to talk to people about disability issues like city bus transportation & jobs, and how to talk to staff."
Many people with disabilities have had little experience in voicing their opinions or choices. Often decisions affecting their lives are made by other people. People First of Lincoln is a self-advocacy group for people over the age of 18. Members improve their decision-making abilities, build self-confidence, and gain assertiveness skills. They learn to make choices that affect their lives and how to accept and fulfill the responsibilities of those choices. 
At People First meetings, members are able to voice their concerns about issues they care about and gain information that leads to better independent living. They share success stories which empower others to achieve their goals. Topics include: transportation, healthy eating, employment, the importance of voting, and legislative issues.
Business meetings are held monthly on the second Saturday from 10:30 a.m. to 12:00 p.m. at Bennett Martin Public Library on the 4th floor. Yearly membership dues are $5.00. Members determine the activities for the group and carry out many of the planning details. They group is directed by people with disabilities who are voted into office by the membership. The local People First chapter is part of the statewide group of People First of Nebraska.